Story of India and its vibrant Startups & Entrepreneurs – a result of PM Narendra Modi's policies since 2014 – is a real, exciting & durable one: Mr. Rajeev Chandrasekhar at IGF

Inclusion of youth from all parts of India to the growing phenomenon of entrepreneurship and innovation is a mission for Narendra Modi Govt

Digital opportunities shouldn't be concentrated in few cities. They must spread to tier 2 cities
Posted Date:- Mar 08, 2022
Union Minister of State for Skill Development and Entrepreneurship and Electronics and Information Technology, Rajeev Chandrasekhar spoke about the New India Inc driving the AtmaNirbharBharat vision of PM Shri Narendra Modi. The Minister affirmed that the India story, it's vibrant Startups & entrepreneurship, are a result of PM Narendra Modi's policies since 2014 – is a real, exciting & durable one. He also mentioned that the next wave of Digitization needs to ensure that Digital opportunities should further spread to tier 2 cities as Inclusion of youth from all parts of India to the growing phenomenon of entrepreneurship and innovation is a mission for Narendra Modi Government.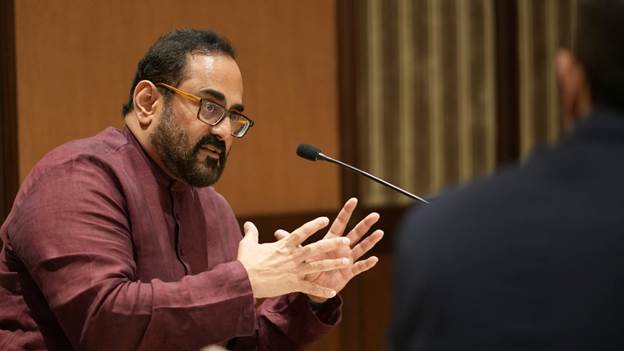 Highlighting the need for projecting the India story at the global forums, the Minister stated that there is a need to pitch India's story in the global arena as this is the inflection point in the Indian tech space & more and more global investors must know about New India's growth story. Pitching how technology is being embedded in governance and lives of people at a rapid pace, Mr Rajeev Chandrasekhar added " Next 2-3 years shall witness deeper and wider expansion of innovation – unprecedented in the history of India."
The Minister at the concluding session also gave an advice to the budding entrepreneurs – "Try & discover the skills & abilities you have aside from the textbooks, it is necessary to develop that. There is no formula that works without determination and passion", he added.
The Minister attended the 2 day India Global Forum 2022, organized in Bengaluru for the very first time. The earlier editions have been organized at London and Dubai. He participated in the sessions – The New India Inc, The Unicorn Round Table, The Global Supply Chain, Education & Skills Boardroom and addresses the concluding session at the Forum.
The morning breakfast roundtable session saw participation of around 30 CEOs and founder of Unicorns. The Minister, ever since he has joined office, has been meeting Startups all across the country.
Speaking on International women day the Minister mentioned " There is a sense of confidence and aspiration post Covid that inspires both women and men in India to aim high.
There is a mood today in India where women believe they can achieve anything."
The forum was attended by Smt Nirmala Sitharaman, Hon Finance Minister, Smt Meenakshi Lekhi, Hon Minister of State, Ministry of external affairs and Culture, and host of dignitaries from the industry, Government of Karnataka, media amongst others.
About IGF: IGF is the agenda-setting forum for international business and global leaders. It offers a selection of platforms that international corporates and policymakers can leverage to interact with stakeholders in their sectors and geographies of strategic importance. Our platforms range from large global events to invite-only, intimate conversations and analysis, interviews and thought leadership through our media assets.